FEB 1st, 2019
WEATHERS Hold Strong With "Dirty Money" Single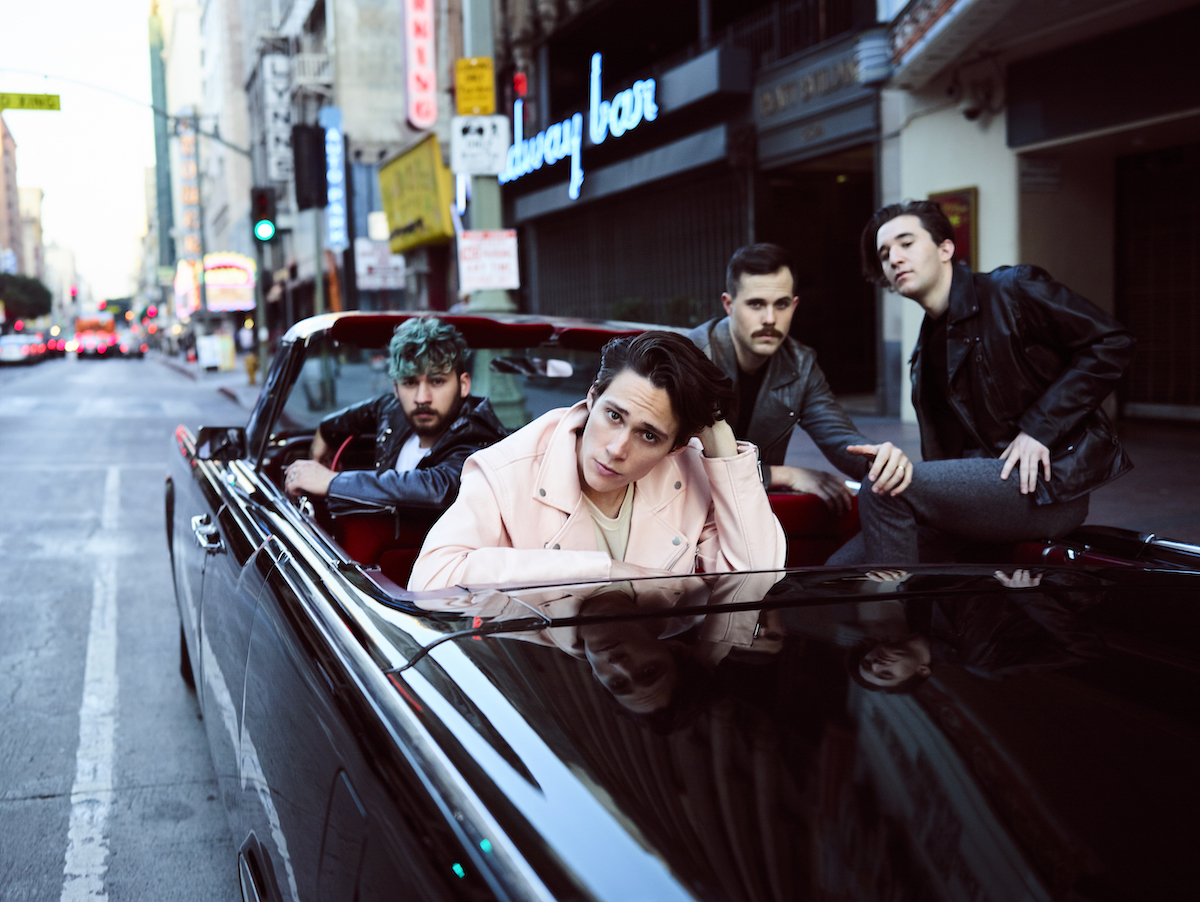 Currently On Tour w/Magic Giant + Castlecomer
Los Angeles-based alt-rock band Weathers made a significant impact in 2018 with a handful of banger singles and the release of their infectious album Kids in the Night. Though 2019 has barely begun the stylish and talented gents show no signs of slowing down, kicking off a six week US tour that includes dates opening for Magic Giant and Castlecomer [full tour routing below], and hitting the studio hard to work on new tunes. Today they have unveiled a new track "Dirty Money," which has a modern alternative rock feel with a twist of indie-pop elements.
When asked about the inspiration behind the song, frontman Cameron Boyer shared, "'Dirty Money' is about the effects that success can have on a person's mental health. This song actually came together pretty quickly with some friends or ours. We were just hangin out while listening to a beat and started throwin' out some ideas until we came to the topic of 'the music industry' and how tough of a business it can be/how our lives would change if things worked out. We wanted to think outside the box and have a different take on mental health with that being the route of being successful and the internal battle fighting your inner demons such as greed, arrogance, and envy."
Listen to "Dirty Money" here:
https://fanlink.to/bpPt
The four-piece band has been making a name for themselves in the alt rock space. Weathers hit the scene hard with their single "Happy Pills," which has accumulated over 14 million streams to date. The track was the most added song on alternative radio on its impact date,and received the most adds for a new artist in the 2010s, and peaked at No. 21 on the Billboard Alternative Songs chart. The standalone single was followed up by their latest album Kids in the Night, which released June 2018 via RCA and was produced by Tim Pagnotta (WALKTHEMOON, NeonTrees). The project is full of feel-good songs about self-value, self-discovery, and about being betrayed, and moving on. The band has toured extensively, opening for the likes of Saint Motel, Nothing but Thieves, and Dreamers.
WEATHERS TOUR DATES
1/23 - Crescent Ballroom - Phoenix, AZ*
1/25 - Dada Dallas - Dallas, TX*
1/26 - Empire Control Room & Garage - Austin, TX*
1/28 - Exit/In - Nashville, TN*
1/29 - Center Stage Theater - Atlanta, GA*
1/31 - The Social - Orlando, FL*
2/06 - DC9 Nightclub - Washington, DC~
2/07 - Knitting Factory - Brooklyn, NY~
2/08 - Great Scott - Allston, MA~
2/09 - World Cafe Live - Philadelphia, PA~
2/13 - El Club - Detroit, MI*
2/14 - Hi-Fi - Indianapolis, IN*
2/15 - Metro - Chicago, IL*
2/19 - Grog Shop - Cleveland, OH*
2/20 - Madison Theater - Covington, KY*
2/21 - Off Broadway - St Louis, MO*
2/23 - Amsterdam Bar + Hall - St Paul, MN*
2/26 - Top Hat Lounge - Missoula, MT*
2/27 - The Crocodile - Seattle, WA*
2/28 - Lola's Room - Crystal Ballroom - Portland, OR*
3/01 - August Hall - San Francisco, CA*
3/08 - House Of Blues - Las Vegas, NV
3/09 - Kilby Court - Salt Lake City, UT
3/10 - Marquis Theater - Denver, CO
3/12 - Rebel Lounge - Phoenix, AZ
3/14 - Strummers Bar + Grill - Fresno, CA
3/16 - The Constellation Room - Santa Ana, CA
3/17 - The Roxy - Los Angeles, CA

*w/Magic Giant + Castlecomer ~w/Castlecomer

KEEP UP WITH WEATHERS ONLINE:
https://www.weathersband.com
https://www.instagram.com/weathersband
https://www.facebook.com/weathersband
https://twitter.com/Weathersband